Avant e5
Green is the way!
Avant e5 is a full electric battery powered articulated loader. It enables the use of a loader in a space that does not allow any emissions or where operations have noise restrictions etc. Avant e5 can use standard Avant attachments and it has auxiliary hydraulic outlet on front with 30 l/min flow. Especially suitable for indoor use where ventilation is limited or non-existent and there are strict noise restrictions.
Battery powered electric loader
zero emission
Extremely low noise
Low operating cost
e5 is equipped with a lead acid battery unit
The quick attach system as well as the multi connector for the attachment hydraulics are the same as in other Avant models, so the large attachment range is suitable also to the e series
The loader has an integrated battery charger as standard, which makes it possible to charge batteries anywhere a 230 volt / 16A power outlet is available. The e series can also be operated while charging the batteries
Equipped with a certified ROPS safety canopy and FOPS safety roof as standard
Features
Avant e5 Videos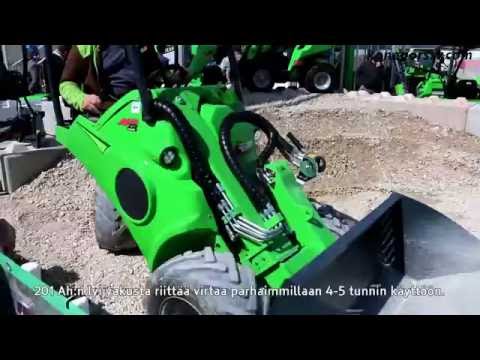 Specifications
SPECIFICATIONS
| | |
| --- | --- |
| Length | 2550 mm |
| Width (With Standard Tyres) | 1130 mm |
| Height | 1985 mm |
| Weight | 1590 Kg |
| Standard Tyres | 23 x 10.5 – 12″ |
| Transmission | Hydrostatic |
| Drive Speed | 10 km/h |
| Auxiliary Hydraulics | 30 l/min |
| Turning Radius (Inside/Outside) | 995 mm / 2050 mm |
| Max Lifting Height (with telescopic boom) | 2790 mm |
| Max Lifting Capacity (hydrolic) | 1350 Kg |
| Tipping Load (with 90cm pallet) | 900 Kg |
| Max breakout force / 50 cm | 1100 Kg |
| Battery Type | Lead-acid |
| Energy | 11.5 kWh |
| Fuel | Electric |
Dimensions
Properties
VERSATILITY
OVER 190 ATTACHMENTS
Avant attachments have been designed to work as an equal partner on AVANT loaders, following these principles
COMPATIBILITY
Best machine-attachment combination can only be achieved when a good basic machine is fitted with attachments that are specifically designed for this machine. The dimensions, auxiliary hydraulics output and other features of AVANT are in perfect balance with the attachments.
POWER
Work efficiency of the attachments is of great importance. AVANT attachments have been designed to give maximum output with the combination loader-attachment.
DURABILITY
Attachments are designed for hard, continuous professional work.
SAFETY
Special attention has been paid to safety features in attachment design.
YEAR-ROUND SOLUTION
Avant loaders and attachments have been designed for year-round use. Cab options, work light options and technical solutions in the loaders have been made as well to the winter cold as to the summer afternoon. Avant's features are therefore very versatile for year-round use. Wide range of attachments will ensure that the machine is not standing without use a large part of the year but that there will be lots of beneficial uses each time of the year.
COMPACT LOADER
Compact loader does not always mean low in power. Compared to other same sized articulated loaders, Avant has significantly smaller outer dimensions. This enables excellent visibility from the machine and working in tight spaces. In the rear of this compact loader you really feel that you are in control of the attachment and your working conditions.
GENTLE ON THE LAWN
Light machine combined with articulation enables driving on sensitive ground without harming it. This saves a lot of time because you won't have to repair damages after your work is done. It also enables use of the loader as an effective lawn mover.
ECONOMY
SAME LOADER PERFORMS ALL THE TASKS
With over 190 attachments Avant is a loader which is very easy and flexible to change into all kinds of works. Changing attachment is very fast and simple. So, with the same loader you can perform all kinds of work just by changing the attachment.
LOW OPERATING COSTS
Operating and maintenance costs of the battery powered e series with electric motors are extremely low. There are no fuel costs, and the electric motors don't need maintenance or changing of filters/oils. Thanks to the integrated battery charger you can charge the batteries anywhere a 230V/16A power outlet is available. Due to the articulated steering also the wearing out of tires is minimal in normal conditions.
LOW MAINTENANCE
Simple and transparent construction and high quality components reduce significantly the need of maintenance. The battery pack and the electric system of the e series are practically maintenance-free and there is only a return filter in the hydraulic system. The use of well-known components reduces the price of maintenance.
COMPACT AND STRONG CONSTRUCTION
Avant loaders have been tested in the colds of Antarktis as well as in the burning heats of Middle East. Strong experience and test in all kinds of working conditions ensure that the loader will last unbreakable in different kinds of heavy duty working conditions and construction areas.
EFFICIENCY
TELESCOPIC BOOM
Avant has been known from its telescopic boom for a long time. It makes it possible that the structure of the loader is very compact and that the lifting capacity is great. When the telescopic boom is inside it is possible to lift huge weights while as the boom is outside it is possible to reach excellent dimension and lifting height. Very often wide dimension is even more important than the lifting height.
CONNECTING THE ATTACHMENTS
Avant attachment connection system enables simple and easy way of connecting the attachment. Mechanical connection system is half automatical. It means that attachment can be connected and locked directly from the cab by turning the attachment enough back.
For connecting the attachment there is hydraulic quick attachment plate also available. This quick attachment plate is fully used from the cabin of the loader and with it it is possible to release and open the connection without stepping away from the cabin.
Hydraulic multi connector system of Avant is the most advanced in the market. Easy connecting and detaching also possible with engine running and/or pressure on attachment. Connection works in all situations and it cannot be connected in a wrong way. The mechanism is also leak free so changing the attachment is no longer a messy thing to do and there is no oil dropping while detaching.
EASY TO DRIVE
Articulated loaders of Avant are very easy to learn to drive. The loader is controlled from the steering wheel and driving forward and backwards happens with two pedals. The machine's compact dimensions facilitate driving, because driver can see the whole machine and attachment while sitting on the driver's seat. Even if you don't have any previous experience with driving machines, you can learn to drive Avant with just few hours of practise.
SPEED
The max. speed of the AVANT e series is 10 km/h, which is enough while working in smaller areas or construction site.
SAFETY
EXCELLENT VISIBILITY
In the development of all Avant machines the focus has been on excellent visibility. Driver has to see the whole machine; from the front, back and both sides. Same goes to machines equipped with safety canopy as with cabin.
Cabin which is build to the front frame of the machine has an very important role with visibility. It provides the best sight to the attachment and work. The best touch to the work is achieved when the driver is sitting as near to the attachment as possible.
Third important fact with visibility is Avant's eccentric telescopic boom. Telescopic boom is located aside from the central line of the machine and due to this the visibility to the front is very good in every position of the boom.
STABILITY
All Avant loaders have rigid articulation joint. This is the single most important factor in helping to achieve the excellent stability in all situations. In addition of articulation joint, center of gravity has been put as low as possible so that the stability of the loader increases.
SAFETY CANOPY AND ROOF AS A STANDARD
There is a ROPS-accepted safety canopy and FOPS-accepted safety roof as a standard equipment in every e series loader.
UNBEATABLE POWER PRICE RATIO
UNIQUE PROPERTIES
Avant is the first manufacturer to introduce a full electric, battery powered loader series to the market. Full electric loader with zero emission and extremely low noise is the answer for future's demands and e series offers also the same comfort and properties as the Avant 500 series which is equipped with a diesel motor. Versatility, compact dimensions and agile movement of the e series allow working in different environments.
SPEED AND PULLING FORCE
The speed of the e series is 10 km/h, which is enough while working in smaller areas or construction site. Thanks to the electric motors the e series is very suitable especially for indoor use. Poclain piston motors ensure good pulling force and the whole power and torque of the electric motor are immediatelly in use.
EXCELLENT TECHNOLOGY
Stepless hydrostatic drive of the e series ensures a pleasurable driving experience. Thanks to the hydraulically pilot operated variable displacement drive pump the loader is easy to drive and there are hardly any consumable parts. Maintenance includes mainly greasing of parts, and for example there's only one filter: return filter in the hydraulic system. On the whole, the e series loader is a comfortable partner as well with the driving as with the maintenance. Versatility and comfort of the machine are increased by the wide selection of options.
CAB OPTIONS
Avant loaders are equipped with a certified ROPS/ FOPS safety frame with tinted plexiglass canopy as standard.
Avant cab L is an excellent and economical choice when the operator wants to have protection against rain, wind and snowfall. It improves operator comfort and working conditions considerably. The cab mounts on the standard ROPS frame, which means safety is guaranteed. It consists of windscreen (equipped with wiper and washer), right side window and rear window.
Avant 760i Compatible Attachments
Avant 760i Compatible Accessories
Contact Us
We would be glad to have feedback from you. Whether it is a comment, question, work proposition or just a hello, drop us a line.
Contact us with the form below, email, or call direct on: 07973 175 244
Find Us
Reach It! - Move It! - Crush It! ~ Sales & Hire
2 Mattesdon Cottages
Lycrome Road
Lye Green, Chesham
Buckinghamshire
HP5 3LQ